What do you imagine is the greatest indicator of student success?
IQ?
Socioeconomic status?
Emotional resilience?
Any other guesses?


The answer is teacher expectations.
Teachers with high expectations work miracles.
Those with low expectations are unsurprised when their students fail.
This is known as the pygmalion effect and is widely researched and well documented.
It makes sense when we consider that our brain is constantly making predictions and corrections.
If we predict that a student can offer better work, we will encourage them until they meet that expectation.
If we predict that a student cannot handle a task, we tend not to let them struggle. We feel that we need to step in, give them the answers or simplify the task for them.
There is a reason that the very first teacher standard is about high expectations:
One of the biggest obstacles for disadvantaged students is that their teachers will often settle for getting the bare minimum out of them. The advantage of being a home educator, directly in charge of your child's education, is that you can always push them to give their best.
It is worth making note of that first bullet point – "establish a safe and stimulating environment for pupils." When some people think of high expectations, they may imagine that this equates to being the pushiest and strictest of parents. This isn't true and doesn't help.
Give your child the best possible environment in which to learn, and win the battle of getting them to want to learn.
Instilling a growth mindset – where your child pushes the boundaries of how much they can achieve in this world, is the most important battle a parent can win.
Someone who embodies the principle of high expectations is Believe in Better Education network member Richard Gray. Richard was a superstar financial analyst who left the finance world to found his own tutoring business. He has shared these pieces of persuasive writing with us. Try and guess how old the students are: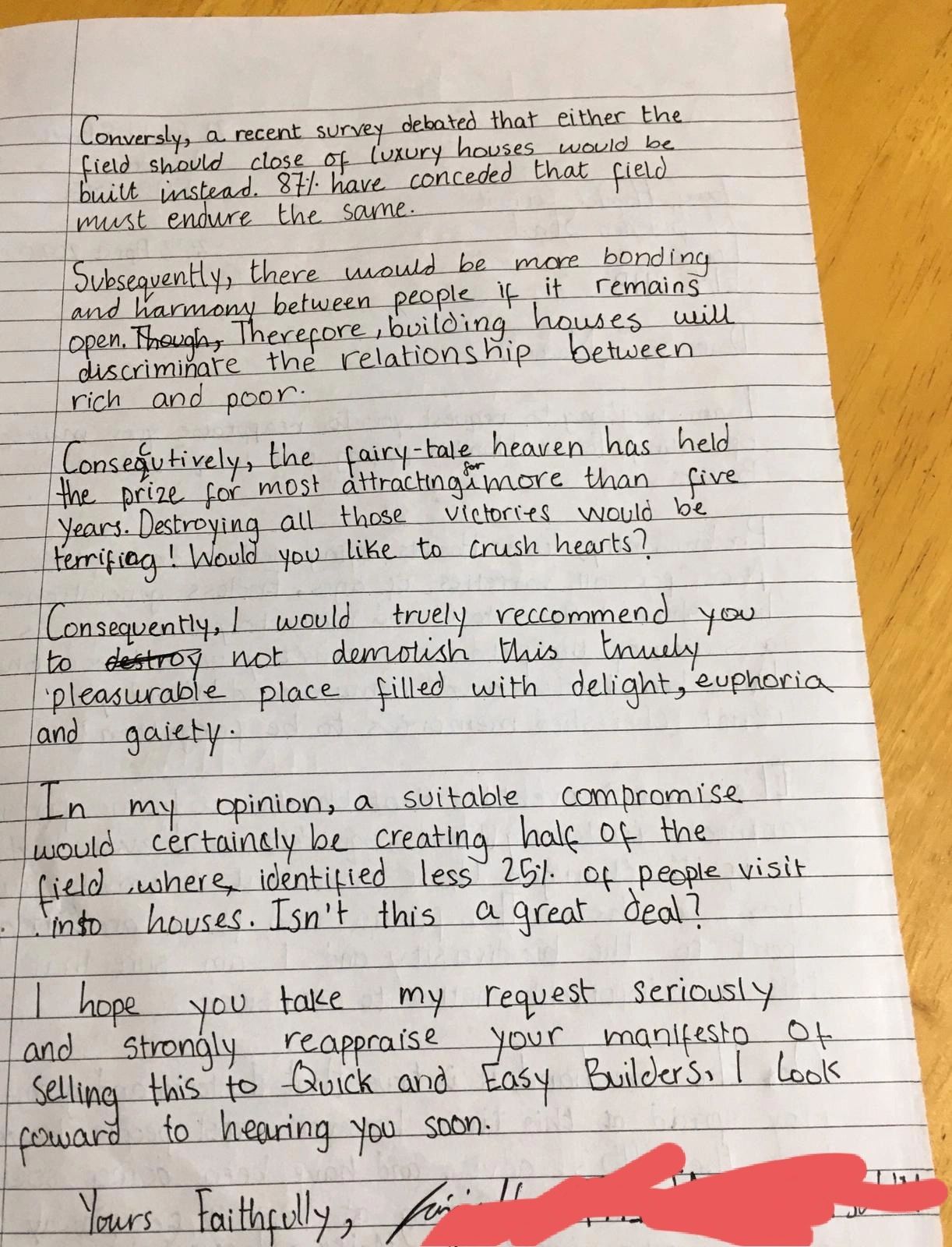 So how old do you think? Let us know in the comments below!
Richard is an 11+ tutor, and these are pieces of work from year 5 students! Getting ten year olds to write like this is an incredible achievement, subscribe to our email updates below and twitter for an upcoming article from him explaining how he faced high expectations, and how he uses them to guide his students!
If you are impressed with his results, go follow him on Facebook and check out his website!
Key points:
High expectations lead to greater progress, low expectations lead to failure.
A safe and stimulating environment is hugely important for student progress.
Convincing your student that it is in their interest to learn is the only way to get the best progress.
Further research:
Any questions? Join our Facebook group and ask away!